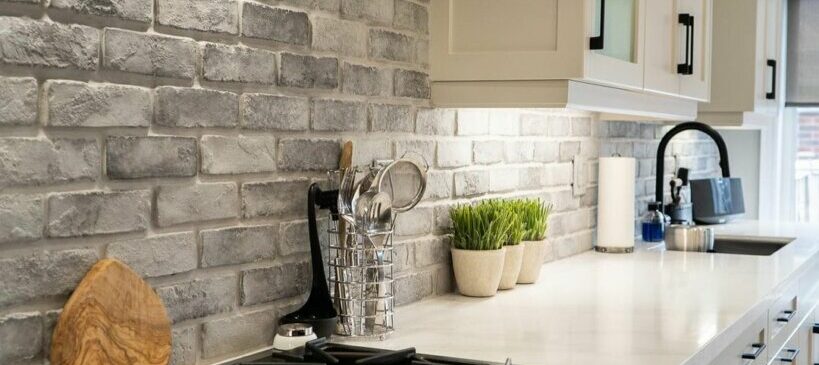 Many people dream of having a wonderfully laid-out kitchen with beautiful countertops, luxurious lighting, and top of line appliances. On average, a household spends 5-10 hours a week in their kitchen. Imagine how simplistic we can make our lives if our kitchen was easily organized and kept your tasks in the kitchen quick and easy. From preparing breakfast to cooking dinners and making lunches and snacks, your kitchen can get quite busy. Running appliances, cutting and chopping your veggies, throwing dishes into the sink, it sure gets busy. Professionals at Aura Kitchens and Cabinetry understand your kitchen needs. This is why we focus on utilizing your space effectively starting from the kitchen layout down to the type of material we use.  
Your organized kitchen layout
When it is time to redesign a kitchen, our experts focus on one primary detail. That is your kitchen space in your home. How big is it? Where is it located in your home? What other home spaces connect to your kitchen? How can we utilize and redesign the space in the most effective way possible so we are getting the most out of really organizing your area? These are some of the key questions our experts ask. The answers to these questions is what gets us organized and your Kitchen remodel started. 
Once we get our answers together, we let you take over. We offer advice on a variety of designs and layout styles based on your space that we think would be the best fit. We take into consideration unique features, color, designs and layouts that could give your kitchen a modern, classic or even a contemporary look based on your preference. Keeping open concepts and adding lots of drawer and cabinet space is usually the way our customers go and it makes sense. This is why we think the way we know you will think. Staying that one step ahead keeps the ball moving in creating that dream kitchen you want. 
Staying Organized 
A part of having a functional kitchen once it is remodeled is making sure the organizing stays. Now with numerous drawer and cabinet space, we always recommend allocating them according to where you work the most and what items are priority. Keeping things handy at an area of the kitchen you use the most will definitely speed up your process. Making use of containers, boxes and labels will also keep you going and functional. Upgrading in material with cabinetry greatly prolongs the life of your beautiful space and just makes you want to keep coming back! Aura Kitchens has all your interests in mind. We know how to help you have a wonderful kitchen experience! Call TODAY for a consultation so we can get on our way to recreating your dream remodeled kitchen!