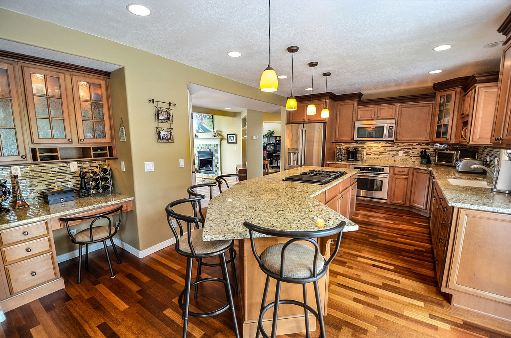 Many wonder if remodeling is important when it can become so expensive once you get started. Remodeling is really an option for many property owners as it is to their discretion whether the investment is worth their money. Aura Kitchen & Cabinetry has worked with thousands of customers who believed remodeling their kitchen was one of the best things they did for themselves and their home. Kitchens are a huge investment without a doubt as it is normally the first or second most spacious area within your home. As the kitchen space is designed to store away your kitchen items, cookware, pantry items etc. it requires many cabinet and drawer spaces along with space for running appliances. When this is all added up, that means a remodel requires that the old space be torn down, a customized design be put in place and the new kitchen be built in. So yes! Although it is a huge investment, for many, it definitely becomes an appreciated one. 
Many ask the question, if my kitchen is functional for me, why should a remodel ever need to be considered? Well to answer this question, there are several factors to consider. Due to the high costs that can entail in remodeling a kitchen, a remodel can bring huge value to your home. Whether you wish to sell in the future or you consider the overall financial well-being of your home, a kitchen remodel is a great way to do that. Further kitchen remodels allow for an upgraded space that uses more top quality materials that are more durable and long-lasting. This is essential in the remodeling process as your material choice will determine your kitchen quality. 
As for many, large investments such as kitchens, are sometimes financially difficult even when you have determined you require an upgrade. In that case, good credit can help you land on some very good credit loans that can be a huge relief. You can take however long you require to pay the debt slowly depending on what deal best fits your financial situation. Further, many customers take on home equity loans if their situation allows them to or credit line loans as well. There are many options that are readily available to you at the time you believe this investment is suitable for you financially. We encourage all our customers to even explore borrowing from their 401K's or maybe even a cash out refinance option. Of these options, the least expensive options would include home equity financing, cash-out refinance and credit cards. Your decision will greatly depend on the total cost of the project, your credit, how much is in the equity of your home and your overall goals with the renovation. Often a loan that offers a comfortable match to your expected financial situation and plenty of extra cash for unanticipated events is usually the most ideal. 
A remodel can be a difficult decision to make in which all factors need to be assessed. Financial risks and all the benefits should all be evaluated. Here at Aura Kitchens & Cabinetry, we want to make that decision as easy as possible for you. We take in all your financial and renovation needs and make the best deal possible so you don't have to re-think. Making the most of your financial situation will be our best situation. We understand that you require our service and we will take in all your ideas and give you the best price possible. Call us TODAY and we will help you get you your dream kitchen in the most financially possible way!