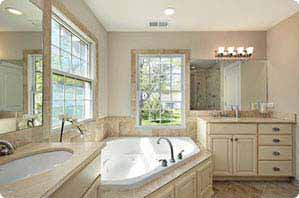 For some people who are a chef by profession, Kitchen has become the favorite room of their home to prepare meals, feed and do some gossip stuff. For others, the bathroom has become the most prominent place to freshen up their body and breath, especially with the hot bath and high-grade aesthetics. 
If you're interested in reinventing your bathroom, it can only be attainable when your bathroom demands renovation/remodeling; so that afterward it can exhibit good vibes along with it. Why? Because your bathroom is the only place that is frequently used and overlooked. A good makeover of the bathroom is an excellent way of giving your home a perfect boost. Those makeovers are done usually with minor or major remodeling, which can change or make a big difference in your style and functioning of the room. 
If you are in that situation where you are stuck up with the old-fashioned simplistic bathroom and want to upgrade it without spending much, here is the good news for you. Stick with us and learn things that you would need afterward to give your bath space an affordable reward.
Installing HQ Wallpapers: 
Yes, the best way is to transform your bathroom with wallpapers because your bathroom may be the smallest area in your home and it doesn't take up any usable space perhaps only needing to instantly inject personal style. It is a beautifully well-suited option, where space tends to be limited, and functionality is necessary. One can use splash-proof wallpapers designed, especially for bathrooms, and can be installed right next to the bath or shower. Wallpapers certainly add character to a room and often inspire us to be bold, fearless and fun-loving with functionality in mind.
Do some Vanity Stuff:
Yeah, installing or keeping some vanity stuff with a combination of a sink and the storage structure around it can enhance your bathroom interior. The storage which you will get is to keep Toiletries, Towels, Shower supplies, Hairdryer, a curler, flat iron, Toilet paper, and a First aid kit. Maybe you can also store Jewelry, Special-occasion makeup and Linens to declutter and organize your bathroom. Keeping the single or double-sided vanity also helps hide exposed plumbing to keep things looking more neat and tidy. However, it is crucial to choose the exact size; otherwise, it may appear padded later on.
Dazzling Lights:
Maybe you've heard of Mood swing, and it plays a very prominent role in terms of your health. The light exposed in your home and workplace can make a huge impact not only by the amount but also by the lighting effect. If you have got monotonous old bulbs, better replace it with trendiest LED's lights or streamlined with light alloy tubes over vanity that can dim up for impeccable illumination effects. Implementing that correctly adds a sparkle and glamour to that whole area. On the other hand, you can also install crystal chandeliers to give the taste of attraction with sparkling light all around. 
LED Mirrors:
If you're having an old-fashioned mirror, replace those with something ultra-modernist stuff like LED mirrors to add value to the bathroom with optimal and beautiful illumination. It seems a minor change, trust us it will genuinely embellish your bathroom and glow out a warm and soft light to enhance your interior. As a result, your entire mirror will look a lot more impressive, immersive and charming most of the time. Just immerse yourself in a sense of confidence while standing in front of these mirrors to get that unique visual appeal that you always wanted. 
Sink, a Classy Tub & Showers:
Your bathroom will never get finished until you install a magnificent sink, a classy tub and showers. Gone are those days when you need to wash your hands or detox your body under those traditional basins or showers. Get into the closeness of a striking sink that comes with intriguing shapes and finishes to wash hands; awe-inducing showers that take cleansing to a whole new level; and a relaxing tub that burns your all-day stress. Just let the water flow in one of these beauties to give your bathroom an urban flash and also to explore and heat the things. 
Conclusion:
Whenever in the future, you feel like you need to upgrade, always aim for the highest requirements in terms of design, functionality and comfort. Our team of Aura Kitchen & Cabinetry perfectly combined with all bathroom series to its reduced and formal language.
If you've enjoyed working with other exemplar stuff that we talked about above, then installing other luxurious amenities or accessories will surely not hurt you and in return urge you to explore stuff personally. Alternatively, all those amenities are available in limitless shapes, size and style; and we are sure that kind of personality can never fade in the coming future.