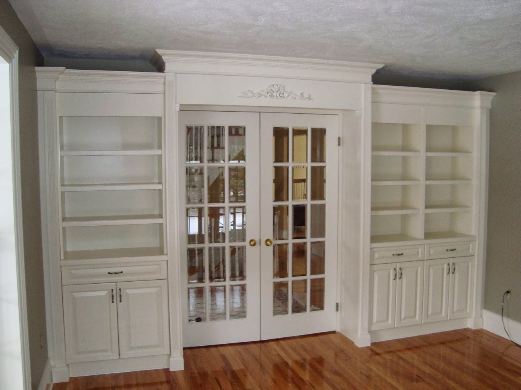 Has organizing always been that difficult disciplined task that you attempt at everyday but just can't seem to keep up? That is the case with most people. Much of the issue comes from the lack of a functional space to actually GET functional and organized. It's just like trying to travel from point A to point B and you have your car as a means of getting there, however, even with it being the best car with the best engine, it doesn't have tires. Well, guess what?! You are out of luck! That is exactly the issue with many people who have busy schedules and lots of things going on around them, they seem to get lost as their functional space is not designed appropriately to fit their needs. Here at Aura Kitchens & Cabinetry, we understand these dynamics and we do our best to educate and encourage our customers to customize with us so we can help them get organized!
One of our best service products aside from our customized kitchens are our customized wall units designed for all kinds of purposes. Wall units are simply designed areas for additional shelf space, cabinetry or simply a decor-look. We do all types of designs such as wall-to-wall, full length etc., whatever the need may be. Many of our customers love creating these wall units in areas such as the laundry area, living/family rooms, or large closets. We further offer amazing details such as lighting, beautiful molding and durable quality material to give you the best we can. 
Many wonder how a wall unit can help them get organized, and how does it all relate to staying organized. Well, it's actually quite simple. Wall units are usually uniform in design and much of what we design is built in for spaces that are empty and non-functional. Creating small shelving areas for example, is a great way to put away those items that just can't find a home. Further, designing how large or small you would like the shelving is always an option and is a great way for you to know what sort of storage you would like to have. From heavy items to small storage items, you can customize anyway you like. Small shelving spaces in a wall unit is also a great decor space for many that like a little extra touch to their empty spaces. With a few small pot lights illuminating the shelving area, decor definitely stands out. 
Aside from shelving space, you can also get organized with some extra cabinetry if you would like to customize them into your wall unit. This kind of storage is great for items that you would like to keep behind doors and not out in the open. Cabinetry is also great for many that enjoy a clean look to storage as items are stowed away. 
When you create a functional space for your home, organization is an easy step. Staying organized will then aid you in easing your everyday routines and systems. Let us help you! Call Aura Kitchens & Cabinetry TODAY!