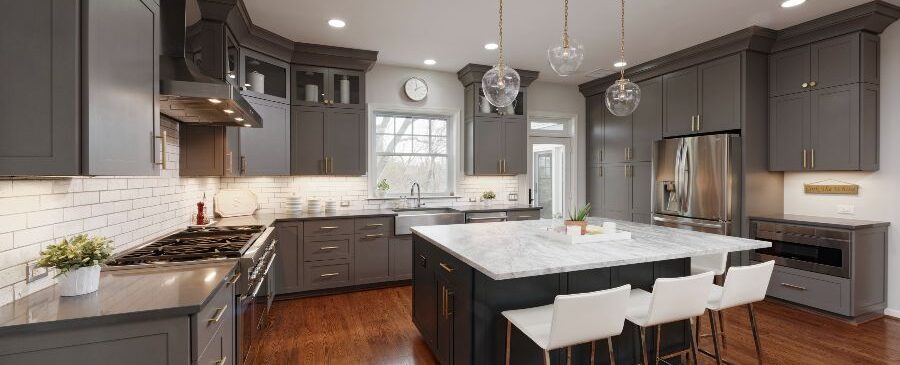 In addition to improving the features of your room and increasing its worth, updating your kitchen can be an exciting and transforming job. An effective kitchen remodelling, however, necessitates meticulous preparation and execution. Several important elements need to be kept in mind, from design considerations to funding and scheduling management. Contact Aura Kitchen Cabinets in Brampton if you want to renovate your kitchen cabinets. They offer professional services to update your kitchen cabinets.
Explore investing in a kitchen redesign if you want to raise the value of your house or just live in a more contemporary setting. To execute it successfully, remember these seven suggestions.
Gain Motivation
Choosing what you want is the first step in beginning a kitchen redesign. Spend some time looking at trends and deciding which essential characteristics your home needs. There are numerous ways to accomplish this. To find out about the latest fashions, you can surf the web. You can also make a Pinterest board with your favourite colours and patterns. Additionally, you can check out the latest models and layouts at home expos and fairs. Learn about your options and plan your kitchen remodel over a few weeks.
Plan Your Budget
The budgeting phase should bring you back to reality if the inspiration phase was intended to help you dream about the possibilities for your project. Consider your budget and the amount you want to spend on your kitchen. Contract labour and any time spent staying away from home (in a hotel or Airbnb where you have access to a full kitchen) also includes in this along with the cost of the items. 
However, they might not be the most comfortable choices. You can save money by staying home and performing the modifications yourself.
Make Essential Aspects Your Top Priority. 
Make a list of your most crucial characteristics and order them in priority if your vision and financial situation still do not match. A good refrigerator, a gas stove, or the installation of a pantry that is built into the wall are a few examples. Making distinct priority lists will allow you to compare them when redesigning the kitchen with your partner. 
You can focus on your budget with the help of these features to choose where you should spend money and where you should save it.
Functionality Come First
Put utility first as another guideline to remember when you are planning. Identify how people will employ the kitchen and what they require from the area. For instance, kitchen islands are familiar since they upgrade flow. There will not be congestion when several people visit the room. 
Consider your intended usage for the area and how various improvements can make your kitchen more convenient and comfortable to live in.
Maintain or Expand Your Storage
Your kitchen remodel can be tailored to your needs and aesthetic preferences. However, do not leave out any storage options from your new designs. If anything, think of methods to expand your kitchen's storage so it can hold more items. 
The kitchens of homeowners typically contain a wide assortment of silverware, gadgets, appliances, and decorative dishes. The items listed here could be anything from your regular can opener to your annual Christmas dish. Buyers look for storage options while examining kitchens and are drawn to areas with lots of storage.
Consider What the Upcoming Creator Would Like
The resale value should be considered while you create your remodel ideas, but you do not have to build your kitchen according to someone else's vision. Although most purchasers may not want a whole hibachi table and deep fryer fit for a restaurant in their home, you might. They favour searching for the typical kitchen stove and oven. 
If your kitchen has a distinctive request, think about creating your designs so you can either move with those unique features or replace them easily when prospective buyers start submitting bids.
Observe the Lighting 
The attractiveness of your kitchen is greatly influenced by the lighting. Your space may appear larger and more appealing when bright lights and neighbouring windows provide natural lighting. When designing their seating areas, restaurant owners take into account extensive research on lighting and human psychology.
When remodelling your kitchen, if at all possible, attempt to provide different lighting alternatives. whether preparing a meal for guests, bright overhead lights are great, but whether having breakfast in the morning or calming down at night, you may only need a little lamp with a soft yellow glow.  
Final Words
Speak to a Realtor who can help you determine a budget if you are redesigning your kitchen to raise the value of your house. The right upgrades can increase interest in your property, and real estate professionals are knowledgeable about how to do this. If your property will sell without the redesign or if it is a worthwhile investment, they can tell you.
Use Aura Kitchen Renovation in Mississauga to discover an agent. The top agents in your region can be contacted through them. There is no obligation to select any one agent after doing a free interview with several. See the agents they suggest for you by getting in touch with them right away.