Imagine seeing the same laundry area or cabinets day in and day out—don't you think it's monotonous and frustrating? Many homeowners want to brighten things up by upgrading their kitchens and bathrooms to break up the monotony of their daily routines.
Before commencing their kitchen renovation project, it is advisable for homeowners to establish a practical plan and budget.
Instead of hastily starting the search for a renovation contractor, it's crucial for the "average homeowners" to thoroughly identify their preferences for the project, and preparation plays a key role in this. One should prioritize determining their "wants" and "why" before moving forward.
Is there a significant lack of adequate floor space or capacity to accommodate more people, or is it worth considering renovating the current space? Disregarding your own desires can be a serious mistake because no one knows them better than you.
Unfortunately, most people merely have an idea and start calling contractors as soon as they look them up online. If that's the issue, there is a good possibility that you will receive dramatically different quotes if you don't have a clear notion of what you prefer and what's available, making your project a nightmare from the start.
It's important to determine what will create the best results for you.
Undertaking a home or property remodeling project can increase its resale value, but only if it's completed by the most skilled professional to the highest standards. Is this a reference that requires selecting the contractor with the lowest price?One who has an exceptional project portfolio? Or one who promises to complete the job in each timeframe.
Identifying the most skilled contractor usually involves a process of multiple meetings and discussions, as well as requesting proposals or bids for the project in person. A kitchen remodeling project mandates careful consideration of the contractor's competence to work with the homeowner's preferences. This is especially important if the project is extensive or involves a significant amount of work.
It's important to remember that the best kitchens are created through a collaborative effort between the client and the builder, both figuratively and literally, right from the start. This includes establishing a clear understanding of the project's scope and goals, as well as creating a realistic budget and timeline. The image above illustrates an example of this collaborative process.
For simple renovation projects, homeowners may be able to do some of the work themselves. However, for larger renovations, such as electrical and plumbing work, homeowners may choose to skip tasks such as painting or replacing outdated fixtures. This can help to reduce construction costs, as well as potentially save money on other critical components. It's important for homeowners to be knowledgeable about the renovation process before deciding whether to take on some of the work themselves. Another crucial step is to determine a realistic budget and be clear about what they can afford or are willing to pay.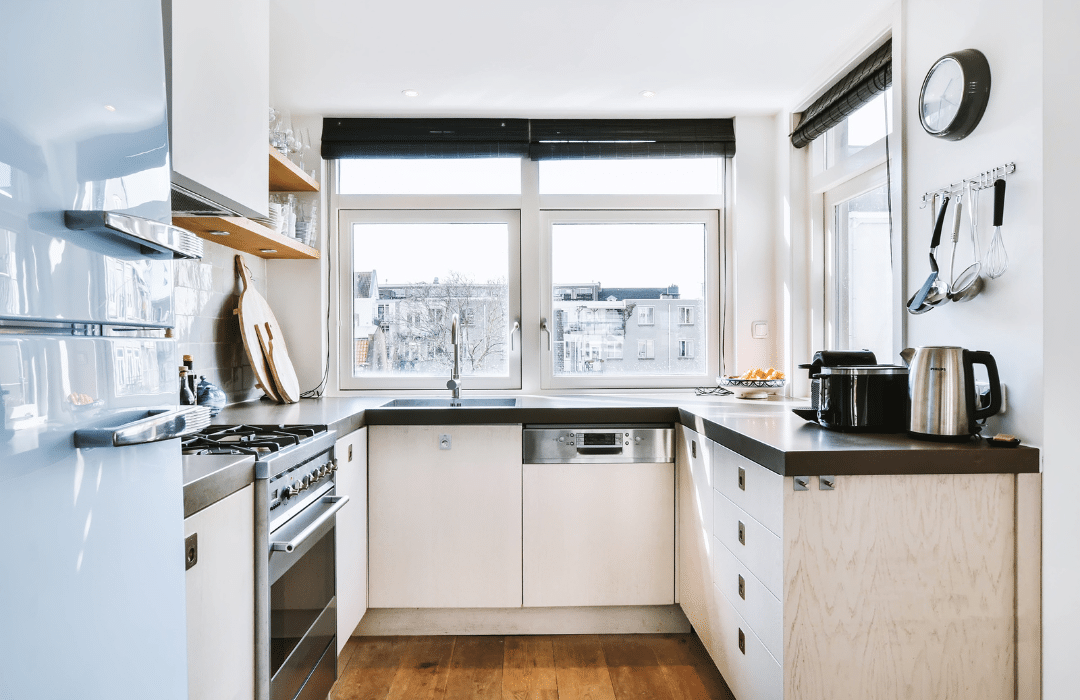 If homeowners fail to establish a budget or set spending limits, they may end up spending money on unnecessary renovations or run out of funds before the work is completed. It's essential to prioritize and determine the "must-have" items after completing all necessary tasks.
For the best results, homeowners should begin by addressing the core needs of their project.
Investing in expensive marble worktops or granite floors can quickly deplete a homeowner's savings, leaving them with little money for other desired renovations. If countertops, appliances, and cabinets are not a top priority, homeowners can consider upgrading them later or exploring more affordable options.
While it may be exciting to choose the best options for a kitchen or bathroom makeover, homeowners should also remember that investing time in this process can save them money and ensure that they hire a reliable contractor. Additionally, they should ensure that the contractor they hire is licensed and insured.
By hiring an experienced project contractor manager, homeowners can enjoy a relatively smooth and straightforward renovation process. Typically, the contractor manager will handle the details that can be frustrating for homeowners, such as dealing with faulty equipment or poor workmanship.
The contractor's primary objective is to ensure that their clients receive the best possible kitchen, and they are conscious of this fact.
Choosing the right contractor is a crucial factor. In addition to visiting local kitchen and bath showrooms and seeking referrals, potential homeowners should also reach out to their nearby friends or relatives to see if they have any recommendations to provide.
To achieve the best possible outcome for a kitchen renovation Mississauga, it is important to lay the groundwork. This involves investing a significant amount of time in discussions with experienced professionals, clearly conveying your requirements, carefully considering their input and suggestions, and waiting patiently until you receive three to five genuine and competitive bids.
As a consumer, it's important to note that no two offers will be the same, and one contractor may charge more for materials and labor than another. To simplify the process of comparing contractors, you may want to create a checklist for yourself.
Moreover, investing time and effort to achieve the best possible kitchen within one's budget is a worthwhile endeavor in the long run.